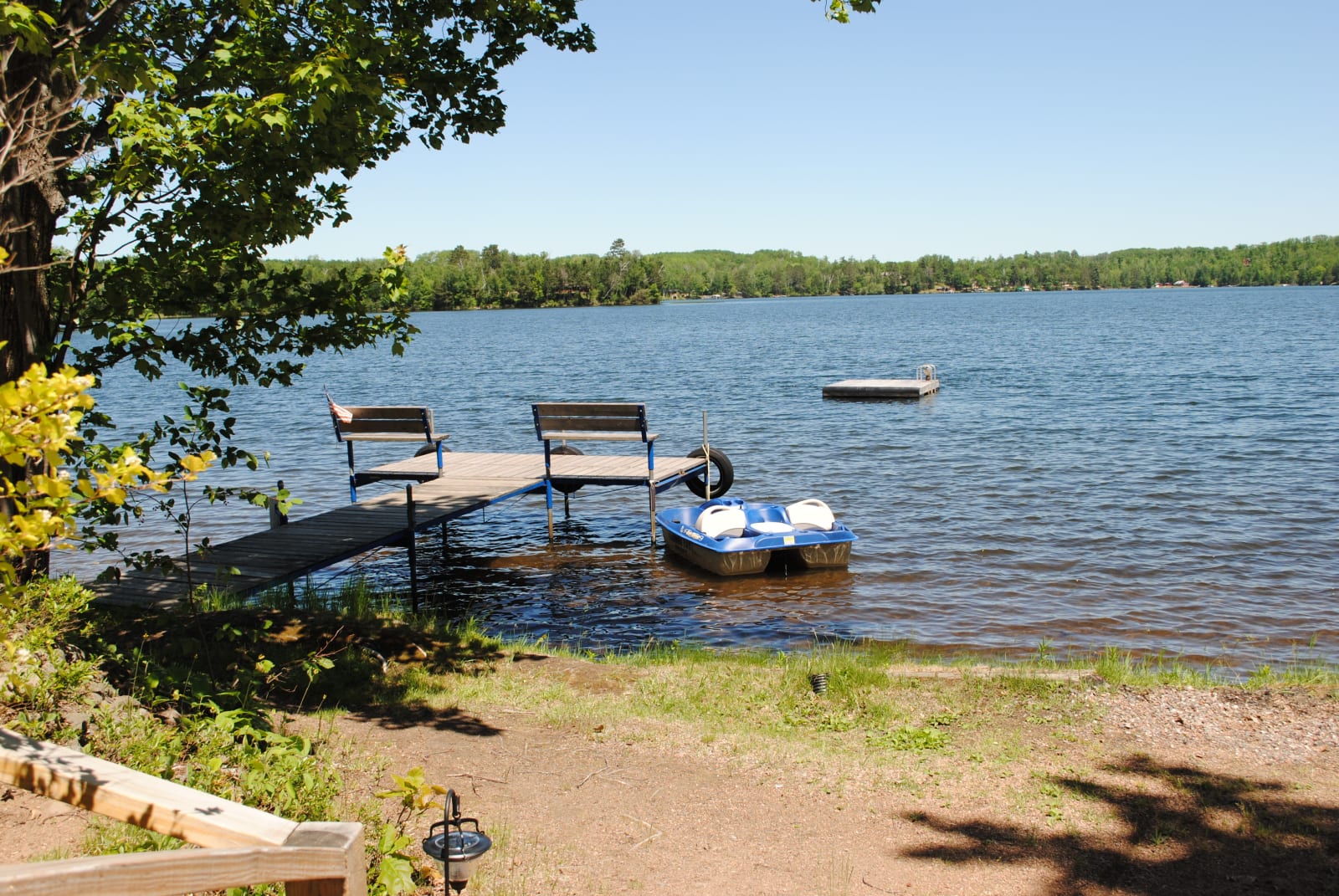 Landing Bay Cabin #1
Harshaw, WI • 2 bedrooms
---
Ready to book?
---
Rental Rate
Summer 2020 Jun 12, 2020 to Aug 14, 2020 $100.00/Nightly
Off Season 2020 Aug 15, 2020 to Sep 30, 2020 $90.00/Nightly
Departure Cleaning Fee Required
At A Glance
Up to 5 Guests
2 Bedrooms
1 Bathroom
Full Kitchen
Water Frontage
Non Smoking
Pet Friendly
Location
---
Street
9359 Muskey Bay Lane
---
---
---
Locations Close By
From Downtown Minocqua: 14 Miles From Harshaw: 8 Miles From Rhinelander: 20 Miles
Availability
---
Property Details
---
Landing Bay Resort on Big Bearskin Lake offers the ultimate Northwoods experience. Here you can still experience the solitude and beauty of the unspoiled wilderness in comfortable surroundings.  Situated on the water's edge, you will enjoy the breathtaking beauty of Big Bearskin Lake. This natural spring-fed lake provides five hundred acres of the area's best fishing and wildlife. 
Big Bearskin Lake is home to many of the natural residents of the Northwoods. The reason for this is due to the large amount of undeveloped shoreline present that abuts to large tracts of natural forestry. Frequently observed animals include; Ducks, Loons, Bald Eagles, Deer, Raccoons, and Chipmunks. Present, but only occasionally seen residents include; Fishers, Porcupines, Mink, Otters, Beavers, Fox, Black Bears, Coyotes, and Wolves.
If you are looking for top-notch fishing, you can expect to find it! Trophy size Small Mouth Bass, Muskie, and Walleye are present. The population of these species along with Perch and Northern Pike is plentiful. The lake offers plenty of panfish but is not currently supporting a population with great size to them (still great fun for the kid's). Big Bearskin Lake is fed by the Bearskin Creek, which offers some very nice trout fishing along with other class A trout fishing streams in the area. Big Bearskin Lake offers easy lake access via the hardtop public boat landing. 
Landing Bay Resort is located adjacent to an access point of the Bearskin State Trail. When you access the trail from the resort you are at mile marker 11 on the trail. The trail is named after Bearskin Lake. It is a flat 18 mile stretch of converted railroad bed. The island in Minocqua is at the northern end of the trail approximately seven miles from the access point at the resort. Approximately one mile south of the access point you will find a scenic lookout that overlooks the Bearskin Creek (which crosses the trail 10 times). The trail retains its wilderness beauty as it is surrounded by undeveloped forests. The scenery includes wonderful lake views and the beauty of deep northern forests. 
---
Number of Guests:
Up to 5
Type of Beds:
1 Double, 2 Twins Extra Sleeping Accommodations: Twin Sized Sofa Sleeper
---
Lake Info
Lake Name:
Big Bearskin Lake
Water Frontage:
Excellent with Sandy Bottom and gradual slope
Watercraft Available:
Rowboat and shared canoe
---
Additional Info
Parking Information: 2 Vehicles
---
Book The Home Of Your Northwoods Adventure
---